Five things to know if you're learning to surf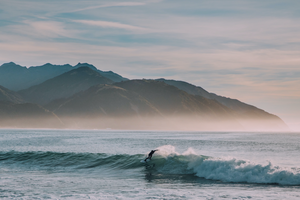 When you decide to learn to surf, there can be an overload of information that can make it hard to know where to start. We get it. So, we've come up with a list of five things every beginner surfer must know.
Safety 
Safety is the most important thing to think about for any surfer, no matter your age or experience level. Being confident in the water is number one. Learning to stay afloat and get yourself out of tricky situations could, quite literally, save your life. Surf with a buddy or at least have someone sitting on the beach, so if you get into trouble, you have someone there to help. If you aren't a confident swimmer, it's best you improve your swimming skills before learning to surf.
Before going into the water, look at the waves. Are there any rips? How are the waves breaking? If you don't know how to spot a rip, you can ask a lifeguard to point them out for you.
If you're just starting out, stay shallow to begin with. These waves are usually great for beginners as they're a bit smaller, easier to ride and make it easier to stand up.
Choosing the right spot
Now the serious stuff is out of the way, let's talk about getting in the water.
Before you get in the water, you need to choose the right spot for you. Find a surf break with sand and stay as far away from rocks and coral as you can. We all end up with a face full of the ocean floor at some point, but trust us when we say, a mouth full of sand is better than going face-first into the rocks.
When you're learning to surf, do yourself (and others) a favour and make sure you give yourself some space. Look at the path the wave will take you on and, if you think you will run into someone if you catch that wave, don't catch the wave.
Finally, look for the right waves. You're looking for gentle waves with a long run of white water. This will give you the best chance of standing up on your board and help avoid a dreaded nosedive into the ocean floor.
Gear
When you decide to learn to surf, we all have a vision of carving up the waves. But, my friend, even Kelly Slater had to start somewhere. And that place is usually a big soft board.
Now stay with us here, a large surfboard sits higher on the water and moves across the water faster. The faster you're going, the easier it is for you to catch the wave (or for the wave to catch you). A large surfboard is more buoyant and more stable, making it easier to ride a wave, balance, and stand up. Most learners take a long time to stand up on each wave. Take your time and practice, practice, practice!  
One of the most vital pieces of gear for surfing is a leash or leg rope. While using a leash is safe, it also provides a sense of security and means that if you fall off your board, you won't have to worry about losing it in the surf. Swimming to retrieve your board will quickly tire you out. Plus, losing a board is expensive
Something else to consider, particularly for New Zealanders, is being SunSmart. Slip, slop, slap and wrap! A rash shirt can come in particularly handy as it can help protect you from the sun as well as protect against chafing.
Your future self will thank you.
Technique
When you're learning to surf, it's as much about technique as it is about figuring out the feeling of the board and how it feels to be on a wave.
Surfing is about balance, and you need to find the sweet spot on your board where you're balanced from side to side and between the front and back of the board. Finding this balance is something that takes practice and is easier with a bigger board. If you haven't found this balance point before you catch the wave, you'll not only find it hard to catch the wave, but you won't be in the right position to stand up.
Another common mistake beginners make is trying to stand up too quickly. When you're on the wave, you need to wait to feel the board drop down ever so slightly before you stand. So, the lesson to keep in mind? Always wait for the drop.
Basic etiquette
When you're surfing, particularly on a busy beach, there are a few etiquette rules that surfers abide by. These aren't so much rules but guidelines that ensure everyone is safe and able to have a good time, but you're bound to be told if you break them.
A note here is that while there are universal surf etiquette rules, there are also local etiquette rules, so it might pay to talk to a local surfer before heading in.  
While we won't go into these rules in-depth here, the most important thing for a beginner to avoid is 'dropping in' on another surfer. To drop in on another surfer means to disrupt their path on the wave. Put simply, if you see someone surfing a wave, don't jump on that wave. Give them room and let them enjoy the ride.
We hope this list helps you find your happy. To find all the gear you need, visit the BPS shop.
Happy surfing!