When all you want to do is surf more, summer starts to end.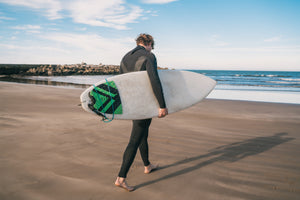 But we say let's be in denial, gear up and extend summer. So here's a list of some things we suggest people consider when shopping for items to make the most of the upcoming fall and winter surfs.
Wetsuits
As temperatures drop, and unless you're a seal, a wetsuit is a must if you want to be in the water for a reasonable amount of time.
We suggest looking for long-lasting quality materials that provide both warmth and flexibility. No one likes to surf in a suit of armour. If you're thinking about a thicker wetsuit, sometimes accessories like booties, gloves, and hoods can save you from going up to the next thickness, which is often heavier and less flexible.
If you hate wetsuits like we do, items like neoprene vests, rashies, and jackets are great to wear before you go the whole hog and get back into that giant rubber onesie.
Boards
Different seasons often mean a change in the waves. Could a new or another board suit the new conditions better? From bigger swells to different breaks, the right board can enhance your performance and enjoyment. And we suggest considering the extra weight that a thick wetsuit, booties, gloves, and a hood can add once wet.
Surfboard Fins
A new fin setup can make an existing board feel totally different. Have a chat with a local expert to consider if you want to make a change for the fall and winter surf season.
Post Surf
We like to make sure we have warm items that are easy to put on and ready to go once you are out of the surf. Dealing with things like buttons or domes with cold hands is a 'no go.' You'll find us in hoodies and trackies all day long.
With all this, you suddenly have a fair amount of stuff to manage. To make things as easy as possible, we suggest packing your bag in the order you will need things - last items at the bottom of the bag, first at the top,  this way getting changed in a cold, windy car park is done as quickly as possible. Searching for what you need first with cold hands while you drip everywhere is no one's idea of fun.
So, here's to fully revelling in denial – hopefully we see you out there!