Skimboard 101: The ultimate guide to buying your first skimboard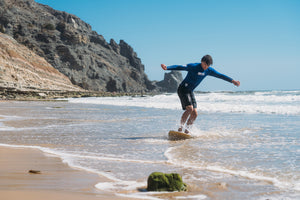 Anyone who has tried their hand at skimboarding knows that there's nothing quite like the thrill of catching a smooth glide across the shallow water. No matter what your age or level of experience is in the water, skimboarding is the perfect entry-level watersport for anyone willing to give it a try.
How you choose your skimboard will depend on your experience level and if you're looking to do flatland skimboarding (skimming along shallow waters such as lower tides along the beach) and wave skimming (at shore breaks with incoming waves).
If you're looking to give skimboarding a try, we've put together this simple guide to buying a skimboard.
Choosing a Skimboard:
Skimboards come in a variety of sizes, shapes and materials that all impact the board's speed, balance and maneuverability.
Size – The size of your skimboard will depend on your height, weight, and skill level. Beginners are best to choose a larger board that is easier to balance on and maneuver, while advanced riders might have the experience to opt for a smaller board that allows for greater speed and control.
Shape – The shape of your skimboard will also impact its performance. Flat boards are great for beginners and for riding on flat water, while boards with rocker (a curved bottom) are better for riding on waves. Boards with a pointed nose are ideal for wave riding.
Material – Skimboards can be made from a variety of materials, including wood, foam, fiberglass, and carbon fiber. At BPS, we recommend wooden boards for beginners looking at flatland skimboarding, as they are easier to control and usually cheaper!
Must-Have Gear:
Wax – Our skimboards have a built-in foam grip pad and don't require waxing; however, most boards on the market need to be waxed to maintain grip and prevent slipping. Though there are wax products specifically for skimboards, tropical surf wax also does a great job.
Board Bag - A board bag will protect your skimboard during transport and storage. Look for a bag that is durable and padded.
With these tips, you'll be ready to hit the beach and enjoy the thrill of skimboarding in no time.
Here at BPS, we have a selection of lightweight, durable boards that are ideal for beginner skimboarders. Check them out
here.