How to pick the best bodyboard for you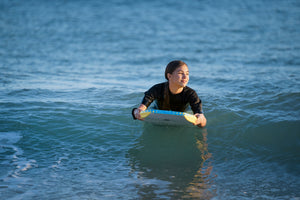 Bodyboarding is a great way for kids to grow in confidence in the water and a great gateway into watersports for all ages.
If you are new to bodyboarding, choosing the right gear is essential to ensure everyone has a safe time in the water. Don't know where to start? We've got you covered with three tips for picking a bodyboard and other bodyboarding essentials.
If you'd like to learn how to bodyboard, check out our tutorial video below for some quick tips.
Pick the perfect bodyboard with your belly button
What size bodyboard do I need? Choose a bodyboard that reaches the height of your belly button.
High-quality boards are strong, lightweight and suitable for every wave type. On the flip side, low-quality boards can be stiff and hard to maneuver, which at best, makes the learning experience feel like a chore and, at worst, can potentially be dangerous in the wrong waves.
Check out our BPS Storm Bodyboard (pictured). These high-quality boards come in three different sizes and several bright colors. Plus, with a non-dragging leash, you will never have to worry about losing your board in the surf.
Suit up in style with rash guard protection
We reckon rash guards are the unsung heroes of watersports. Good quality rashies offer SPF50+ protection and are lightweight and breathable, protecting us from heat, humidity, cold, and chafe.
Read more: why we think the humble rashie is an essential piece of kit.
Our BPS rash guards (pictured) feature four-way stretch fabric, giving a comfortable full range of motion, preventing irritation and chafing in the water. Our rash guards come in both kids, youth and adult sizes, so there's something for the whole family.
3. Safety third with a bodyboard leash
Longer bodyboard cords are a nuisance, quickly becoming tangled when paddling and tend not to handle bigger surf too well. Our BPS 'koru' pro bodyboard leashes (pictured) are coiled to prevent any tangling around itself or your board or getting caught on other submerged objects, keeping any bodyboarder safer in the water.
What size to buy? Here at BPS, our leashes are 4' long, the perfect length to ensure the leash is up out of the water as much as possible.
Constructed from the highest quality materials, our leashes feature a padded neoprene cuff for comfort and strong velcro, so you can rest assured that your board is always close by.
There you have it. With the right gear, beginners of any age will be out on the water catching waves in no time.
Want to know how to bodyboard before you head to the beach? Watch below for some quick tips from our founder, Blair.